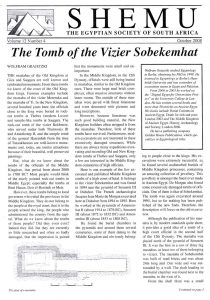 Shemu
is the Society's quarterly newsletter, issued in January, April, July and October.
Shemu
is an Egyptian word meaning 'harvest'. The rise of the Nile flood in July marked the New Year for ancient Egyptians and this, the first season from July to October, was called
akhet
(inundation), go be followed by
peret
(time of emergence) from November to February as the Nile waters subside. The final season from March to June was
shemu
, a word that came to mean 'harvest'.  The TESSA newsletter is sent to members, relevant organisations and institutions in South Africa, the USA, UK and Egypt.  Non-member subscriptions can be arranged. Please e-mail the Secretary on
scarab@telkomsa.net
………………………………………………………………..
'John's competition' – Identify Egyptian Monuments
Photos 1,2&3 showed you how the competition works –
photos 4,5,and 6 are the start of the competition in May
-more photos will appear here in June, August, September and October.
Put your answers on the entry form distributed at the May meeting & bring the form with you to the June meeting for the next photos! If you don't have a form but would like one or some info please contact Jean at amunet73@gmail.com or John at johnlombard45@gmail.com or pick one up at a meeting!
Recent Society News
TESSA Day School 15th July  Venue St George's GS, Mowbray
Our annual day school took place this year at our home venue of St George's GS. Many grateful thanks are due to the school's event organiser, Stephen Bornman and helpers for helping make this such a good day! The JM hall was transformed into an elegant dining room and the GB hall set-up with a small stage and lectern for the speakers, the sound equipment was ready and there was even a large heater to help warm the chilly hall.
The first speaker of the day was Professor Sakkie Cornelius.
Professor Sakkie Cornelius, of Stellenbosch University;Foreign Rulers on the Nile: Egypt under Hyksos occupation. An interesting look at these 'Asiatic' people who governed part of Egypt for about 150 years until they were driven out of Egypt by Ahmose the Liberator and founder of the great 18th dynasty in c1359BCE. Professor Cornelius was able to share some new information with us about these enigmatic people.
At about 11.15am we enjoyed a short tea/coffee break with delicious biscuits and scones and cream! After which we returned to the hall for the next lecture.
Anlen Boshoff – The Kingdom of Kush. Anlen's lecture was well received, with lots of new information and the wonderful visuals were greatly interesting.
At about 1pm we made our way to the 'dining hall', where, once all were settled, John Lombard saw to it that all 'tables' went to the buffet in an orderly manner, to get there lunch of roast beef, roast potatoes and vegetables - with sticky toffee pudding to follow.
After lunch we repaired once again to the GB hall for the last lecture of the day -
Keith Grenville – Rameses II Cenotaph temple at Abydos. The visuals again were very good and Keith pointed out various interesting features – as this temple is very rarely visited these visuals were of great interest.
The raffle prizes were handed to those lucky enough to have chosen the right numbers – congratulations to them all!
Many thanks again to the school and Stephen Bornman for making this day a success. Everyone agreed that having our Day School on 'home ground' was a great idea! Photos coming up as soon as I get them.
…………………………………………………………………
TESSA Annual Outing in November at Hartenberg
Some members and friends enjoyed the annual outing to Hartenberg, despite the lightly chilly wind. Due to costs we didn't have a special speaker and the outing was just a social get together for members and friends.
Lunch was served on huge platters placed at intervals along the table. We also organised a wine tasting which was interesting! After lunch those who wanted to, were able to purchase their choice of wine from the estate.
……………………………………………………………………..