Meetings and lectures are usually held at 7:30 pm on the 4th Tuesday of each month, there is no meeting in December. In July we hold our annual Day School - the venue for this year is St George's GS, Richmond Road, Mowbray.

Non-members are very welcome at all meetings, a nominal entry fee of R25 is charged.
…………………………………………………………………………………………………………………
There is no meeting of this society in December - we look forward to welcoming you at our 2017 meetings.
……………………………………………………………………………………………………
Tuesday 24th October 2107 at 7.30pm
Gillian Russell-Johansen  -  Bones & Flesh of the Gods: the appeal of precious metals in ancient times.
Secret knowledge, ritual and magic provided some of the worlds's earliest masterpieces, but at what cost?
Jean Smith – members platform – 'The Uluburun Shipwreck'.
Uluburun is what archaeologists have called the remains of a Late Bronze Age ship, wrecked in the 14th century BC
off the coast of Turkey near the modern town of Kas.
Archaeologists believe the ship originated in what is today coastal
Syria-Palestine while dendrochronology pinpoints the construction date to 1306 BCE
.
……………………………………………………………………………………………………………………….
Tuesday 28th November 2017 at 7.30pm
TESSA AGM  – after a short AGM there will be tea/coffee/karkady break. After the break…..
Keith Grenville – The Great Hymn to the Aten.
Following Akhenaten's break with the traditional religious beliefs of Egypt, and severing himself and the powerful and
conservative priesthood, Akhenaten brought naturalism to art, abandoning the traditional conventions in iconography
and artistic expression. This was reflected in a number of hymns or poems to the Aten composed during his reign, maybe
written by the king himself. The Great Hymn to the Aten is a written illustration of the core philosophy of
self-created religion – the universal power of the sun. We briefly look at the circumstances of the breakaway from
convention and focus on the similarities between Akhenaten's Great Hymn and Psalm 104 and finish with a reading of the
Great Hymn to the Aten.
…………………………………………………………………………………………………………………………..
Cape Town venue for Meetings and Lectures
The Jenny Mallet Hall
St George's Grammar School
Richmond Road, Mowbray, Cape Town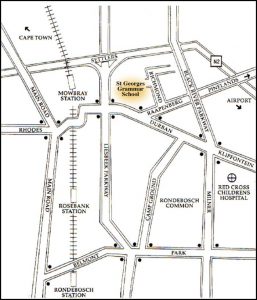 For a printable pdf of the map, click here
Free secure parking available – non-members are welcome
Valid Membership Cards to be shown at all meetings
TESSA meets for monthly meetings on the fourth Tuesday of every month at St George's Grammar School, Richmond Road, Mowbray.  We have ten meetings a year to which members have free access.   Monthly meetings generally take the form of a main lecture of about one hour followed by a tea/coffee break and then a 30 minute "Members' Platform" where ordinary members are invited to "have their say" on any topic that interests them.  Occasionally we have "double lectures" where the topic being addressed is longer than normal and is interrupted by the tea/coffee break with the "Members' Platform" falling away for that month.  Among our speakers have been some international figures, including Dr Zahi Hawass. We attempt to get a high-profile speaker every second or third year but, being at the wrong end of the world results in enormous travel costs.
There is no meeting in December because of the holidays and our July meeting takes the form of our Annual Day School which is held at the St George's GS.  This event is the high point of our year and consists of three lectures on a specific theme and a sumptuous buffet lunch.  This is the only thing for which members have to pay – obviously to cover the costs of catering and of the hire of the venue.
At our normal monthly meetings, members have free access to our ever-expanding Lending and Reference library.  We have close to 700 books all told, as well as a DVD section and magazines for members' casual perusal.
Members also receive free copies of our quarterly magazine "Shemu" which contains general interest articles as well as brief details of recent discoveries.  Irregular reports on new discoveries are also e-mailed to those members for whom we have an electronic address.
TESSA arranges annual day outings to places of Egyptological interest.  Recent outings have included "Egypt in the Boland" and "Egypt in the Swartland."
ANTHONY HUMPHREYS