Meetings and lectures are usually held at 7:30 pm on the 4th Tuesday of each month, there is no meeting in December. In July we hold our annual Day School - the venue for this year is St George's GS, Richmond Road, Mowbray.

Non-members are very welcome at all meetings, a nominal entry fee of R25 is charged.
…………………………………………………………………………………………………………………….

There is no meeting of this society in December - we look forward to welcoming you at our 2018 meetings.
………………………………………………………………………………………………..
Tuesday January 23rd  2018 at 7.30pm
Dr Lambert Vorster – The Desert Fayyum & El Alamein Re-visited.
Although the focus is on the Fayoum area, a visit to the Egyptian Geological Museum is included in the talk. Another visit is made to the Wadi el-Hitan (Valley of the Whales) where they have just opened a new museum.
Sites not previously visited will include,  the Old Kingdom basalt road in the Gebel Qatrani and the quarries at the Widan el-Faras (Ears of the Horse). In the Fayoum itself the potters site at Nazla, the entrance of the Bahr Yusuf into the Fayoum at Lahun. Another look at the pyramids of the 12th dynasty pharaohs. Medinet Madi is worth another visit. Travelling through the Fayoum is on its own an unforgettable experience.
……………………………………………………………………………………………………………………..
 Tuesday 27th February 2018 at 7.30pm
TBA
…………………………………………………………………………………………………………………….
Tuesday March 27th 2018
Mr. Joseph Koetsier
Ancient Egypt & Classical Music – An exploration of European, American & Egyptian Composers.
Among the greatest of Egyptian composers,  Halim Abdul Messieh El-Dabh (1921-2017) passed away in the age of 96 on 2 September 2017 in the USA where he lived. This presentation will be  to present some sort of an obituary dedicated to this great versatile man.
Contributions to ethnomusicology: Egyptian themes / music light shows pyramids and early pioneer of electronic music (1944)
He was seen as the foremost living composer among Egypt's' second generation of contemporary composers.
Present at this lecture will be Prof Michael Blake, who lives in France but who will be in South Africa in  March 2018
………………………………………………………………………………………………………
Egypt's Suez canal [Full title TBA]
…………………………………………………………………………………………………………………….
 Cape Town venue for Meetings and Lectures
The Jenny Mallet Hall
St George's Grammar School
Richmond Road, Mowbray, Cape Town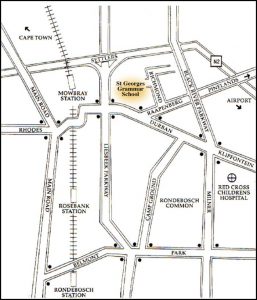 For a printable pdf of the map, click here
Free secure parking available – non-members are welcome
Valid Membership Cards to be shown at all meetings
TESSA meets for monthly meetings on the fourth Tuesday of every month at St George's Grammar School, Richmond Road, Mowbray.  We have ten meetings a year to which members have free access.   Monthly meetings generally take the form of a main lecture of about one hour followed by a tea/coffee break and then a 30 minute "Members' Platform" where ordinary members are invited to "have their say" on any topic that interests them.  Occasionally we have "double lectures" where the topic being addressed is longer than normal and is interrupted by the tea/coffee break with the "Members' Platform" falling away for that month.  Among our speakers have been some international figures, including Dr Zahi Hawass. We attempt to get a high-profile speaker every second or third year but, being at the wrong end of the world results in enormous travel costs.
There is no meeting in December because of the holidays and our July meeting takes the form of our Annual Day School which is held at the St George's GS.  This event is the high point of our year and consists of three lectures on a specific theme and a sumptuous buffet lunch.  This is the only thing for which members have to pay – obviously to cover the costs of catering and of the hire of the venue.
At our normal monthly meetings, members have free access to our ever-expanding Lending and Reference library.  We have close to 700 books all told, as well as a DVD section and magazines for members' casual perusal.
Members also receive free copies of our quarterly magazine "Shemu" which contains general interest articles as well as brief details of recent discoveries.  Irregular reports on new discoveries are also e-mailed to those members for whom we have an electronic address.
TESSA arranges annual day outings to places of Egyptological interest.  Recent outings have included "Egypt in the Boland" and "Egypt in the Swartland."
ANTHONY HUMPHREYS